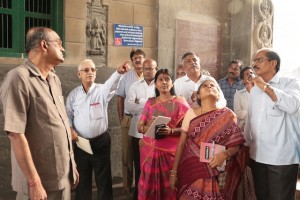 State government officials have visited the Sri Kapali Temple on Friday to take stock of the plans for repairs and renovation in connection with the planned kumbhabhishekam in early 2016.
They were joined by temple officials. A meeting was held and then the group went around the temple campus to take a look at repairs planned. 
The temple executive officer explained the plans.
The presence of an officer in the archaeological department was noticed.
In recent times, there has been much criticism at the manner in which renovation of old temples is carried out – in Thiruvotriyur and in Srirangam and Kumbakonam. In these cases, it is said heritage scuptures are damaged and artworks affected.