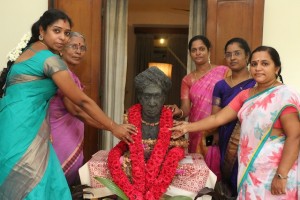 Teachers Day celebrations in local school campuses continued through the weekend. Some schools chose to hold events on Friday. At Rosary Matric Girls School in San Thome, the faculty and nuns started the day with Holy Mass at the campus chapel, a tradition that has been long followed here.
Later, there were a few cultural programs here.
The small community of teachers at Fatima Primary School run by the Catholic church in R A Puram (St Lazarus Church) took part in a  few events to mark the occasion.
On Saturday, Sept.5, a small group of students and teachers of Childrens Garden School met at the bungalow of Dr Radhakrishnan, former India president, teacher and philosopher after whom Teachers Day is celebrated. Here, they garlanded his bust. Other groups of teachers followed. The bungalow is located on Dr Radhakrishnan Salai.
There was a simple event at Vivekananda College.
Some schools have planned to celebrate the Day on Mondsy.