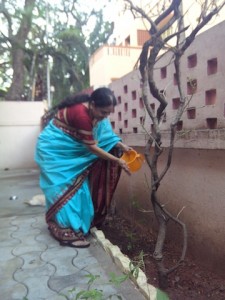 As a step towards a greener Chennai, Thuvakkam, a local NGO has decided to plant saplings at homes of people who want to support this campaign.
This initiative was started by NGO volunteers by planting a sapling at  the home of ex-MLA of Mylapore, S. Ve. Shekher.  Volunteers say this far, they have planted 448 saplings around Chennai. Today, they got the support of former actor Sachu and planted a sapling at her house along with members of Mylapore Residents Welfare Association. ( photo on left)
The NGO says that any person keen to have a sapling can contact it by sending a message on Whatsapp to Krishna Kumar at 9444333624.