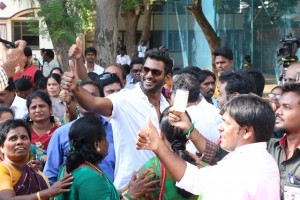 The gates that open to St Ebbas School which are hardly noticed otherwise were the busiest places on Dr Radhakrishnan Salai, Mylapore on Sunday. It was the venue for the hotly-contested polls of the Nadigar Sangam ( actors' association).
Police secured the place and were here in large number as were the campaigners of two contesting sides.
Artistes streamed in from about 10 a.m. to cast their ballot and a large number of film fans could be put off by the police from taking a look at the film stars who came by.