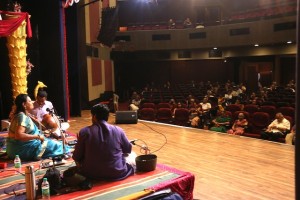 Mylapore's music and dance rasikas who must have their daily dose of concerts will be happy that all local sabhas are going ahead with their December Season festivals and these will keep them engaged through the month.
Bharatiya Vidya Bhavna continues hosting its Fest concerts at its hall on East Mada Street and diehard rasikas are making the most of it.
Now, the city sabhas have said that they will stage the Fests but will accommodate changes of artistes who are affected by the deluge or wish to stay away.
Photo is of violinist Dr M Narmadha at concert in Bhavans, Mylapore