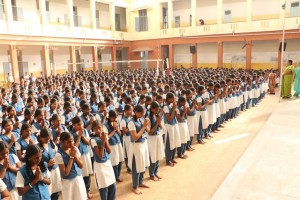 Schools have reopened this morning in many campuses after breaks that lasted really long – from Deepavali time to now. Many had breaks of at least 20 / 25 days because of the monsoon rains and then the deluge of December 2.
At Lady Sivaswami Girls Hr Secondary School, Mylapore the girls at Assembly time said a special prayer. ( seen in photo)
In some schools, managers are checking out on students whose families have been badly hit.
In many others, school heads are breaking their heads on how to make good the loss of huge volume of class hours and preparations for the state Board exams.