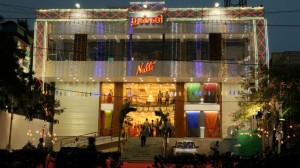 A branch of Nalli has come up at Mylapore on Dec 13. The two storey building stocks sarees in fabrics like silk, cotton, crepe and more and also veshtis, pavadais, salwar materials and more.
The first floor is the silk section – varieties of silk sarees are stocked here. Customers can browse through printed silk, pure silk or semi silk sarees here.
Pure silk sarees are available from upwards of Rs. 5000 and semi silk sarees are available for about Rs. 1,500. Silk pavadai materials are also available. Veshtis – both silks and cotton – are also available at this floor.
The second floor has synthetic and cotton sarees, and dress materials.
Store is located at New 24 (old 172), Luz Church Road, near Kamadhenu Kalyana Mandapam. Ph: 24672341.