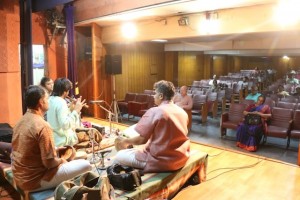 Music and the arts has a way to flow, just like the monsoon waters. And in Mylapore, most sabhas are going that extra mile to ensure the December Season concerts go on as scheduled. But they have a tough job to undertake – to call twice to check if all artistes scheduled for the day's show can make it. For, many artistes who live in the suburbs dislocation caused by last week's deluge are still tackling the more serious issues of their lives.
This morning, flautist J A Jayanth ( featured in this picture) held his concert in Narada Gana Sabha's mini hall for Kartik Fine Arts' fest that is underway.
The main concerts here will also be held, we are told.
The sunshine today has given sabha managers some hope to keep going.
Bhavans' shows are on smoothly, giving rasikas in the heart of Mylapore the space to distract themselves from the continuous rain the past week.
Naada Inbam's fest at Raga Sudha hall on Luz Avenue will be launched this evening. And it will also go on unless  the weather is really bad.