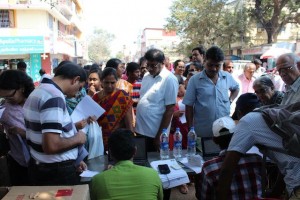 Would your neighborhood community group or residents' association like to hold a Voter Registration and Cross-check camp? A couple of NGOs can help you do this.
Two NGOs, Thuvakkam and ChennaiNext showed how this can be done with a voter registration drive cum voter survey held at Mylapore on Feb 14, last Sunday.
Volunteers said that about three hundred people came by to register or seek clarifications.
The volunteers set up tables and chairs and worked on a few PCs under the shade of trees near Gandhi statue alongside the Chitrakulam's north side.
Said one volunteer, "We were surprised to know that lots of people were not aware of the http://elections.tn.gov.in website where anyone can upload their photos and register online or make address change. We guided people with internet access to take the easy process to register it themselves."
All you need to provide for a similar camp are a few PCs and a Net connection. Call Krishna 9444333624 or Ashok 9382577264.