Check out these exhibitions going on in the area.
MONTAGES AND SCULPTURES
Works by 15 artists including Vidya Kamat and Lekha Washington will be on display at Art Houz. The exhibition is in celebration of Women's Day and will go on till Apr 2. A presentation by artist Bhavani GS focusing on her exploration and works by river Kaveri is scheduled on Mar 19, 5 p.m. and a performance by Dimple B. Shah at 6.30 p.m. At 41, Kasturi Rangan Road, Alwarpet. Ph: 24992173.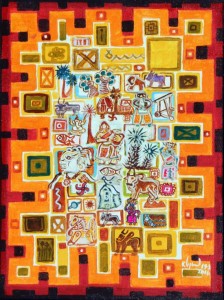 ART FOR A CAUSE
Artist Niha Nathersa has curated an art show with works of 13 artists to raise funds to rehabilitate people affected by the floods of last year. Named Hues for Life, the exhibition ranges from abstracts to figuratives and art on canvas and etchings. From Mar 22 to Mar 26 at Artworld Sarala's Art Center. At 1/12 Ganesha Puram, Third Street. Ph: 24338691.