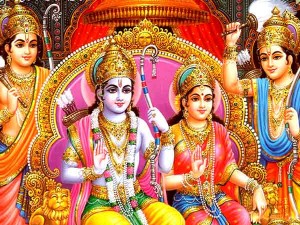 Here is a a summary of the activities planned by two groups for Sri Rama Navami which falls on Friday, April 15:
Bharatiya Vidya Bhavan is conducting a Sri Rama Navami utsav at its Mylapore premises on April 16. T. M. Anitha Guha along with students of Bharathanjali Trust and guest artists will present a dance titled 'Sundarakandam'. At East Mada Street, Mylapore, 6.30 p.m.
Sri Nandalala Religious Trust is organising a celebration at its premises from April 15 – 17.  A special thirumanjanam will be held at 8 a.m on April 15 and the deity will adorn a special alangaram. In the evening, special sevas will be held – swarnapushpaarchani, ghee lamp samparnaam and yanthira aarthi.
 On April 16 morning, a Sri Ramar Sahasranama archanai will be held and the deity will adorn a special 'Ramar Seetha swayamvaram' alankaram. In the evening, a sundara kandam parayanam will be held followed by a special deepa aradhanai and poo saatruthal (offering of flowers for the swayamvaram)
On April 17, the festivities will start with a vishnu saharasanam parayanam in the morning. At 9 a.m. a quiz competition will be held for students of classes III to VIII. The topic will be 'Sundarakandam' and the quiz will be based on a book which will be provided to the participants. Sri Rama Pattabhishekam will be held in the evening at 6
p.m. followed by a special deepa aradhanai, vidaiyatru vizha and a special sevai (yanthira aarthi). At Ranga Road, Mylapore. Ph: 24983631.