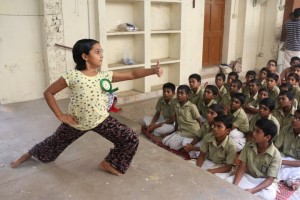 More than 70 students participated in a quiz held at Sri Nandalala Religious Trust, Mylapore yesterday (April 17). Held, as part of the Sri Rama Navami celebrations at the temple, the written quiz was conducted for students of classes III to VIII on the topic 'Sundarakandam'.
The participants were given a booklet to prepare from (in English and Tamil) prior to the quiz and were then asked to answer questions. Lekha Aravind, a volunteer says, "Just before the quiz, an impromptu bharatanatyam performance by a student D. Nutana (seen in the picture) surprised us. She held up several mudhras and enacted several scenes from the Ramayana and asked the students to guess which scene she was acting out".
The results of the quiz, Lekha says, will be announced in the next few days. Certificates were given to all the participants. Nandalala is located at Ranga Road, Mylapore. Ph: 24983631.