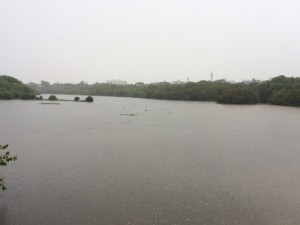 The rain continued through the night in most parts of the city and in Mylapore and it has been raining through the morning too.
Most streets are deserted and even students who got their Plus Two exam marks preferred to remain indoors, so school campuses were almost deserted.
The rain has been light and heavy alternately. The water is filling up in the water pond of the Adyar Poonga, the nature reserve in the R A Puram area; on either side of the main road and it makes a pleasant sight. ( photo)
Rain lovers were seen hanging on the edge of the Marina beach to savor the soothing scene.
Water began to stagnate and flood in some streets and the civic workers got to work later in the day.
More rain is expected.