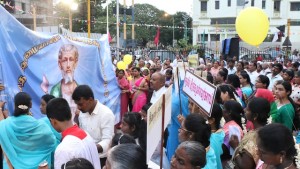 The annual feast of saint Thomas may not be a grand celebration even at the local level but it brings to focus a saint who is at the core of the Thomas tradition of 2000 years and one which is often challenged by the critics.
This year's feast of the saint began with the flag hoisting at San Thome Cathedral on Friday evening.
People who head to the San Thome Cathedral from outside the city seek out the places that are associated with the saint here; they are directed to the rear of the cathedral to gain access to what is considered to be the tomb of the saint, where he was said to have been buried there first after he was killed on the mount now called St Thomas Mount.
During the last major renovation of the cathedral, a underground tomb chapel was built with the stairs leading down from a small complex behind the church – this encompasses the saint's tomb space as well as a small altar. Here Masses are said every day.
The tomb chapel is open from morning to nighttime and draws a large number of devotees and tourists.
Devotees can spend time in prayer here and access the tomb without going into the cathedral.
In the past, devotees wanting to visit the tomb had to go close to the main altar inside the cathedral, take the stairs and visit the tomb. This often disturbed Mass services.