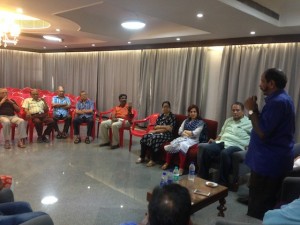 R. Natraj Mylapore MLA honoured the invitation facilitated by Rani Meyammai Towers Owners Association and attended a meeting at their Club House on Sunday , June 12.
The MLA was briefed about the civic problems the community were facing for a long time viz., school van parking menace, sewerage problems, power problems and garbage clearance
Natraj said suitable steps will be taken with the authorities to resolve them.
He appreciated the garbage segregation system at source practiced by the community.
He also met the office bearers of MRC Nagar Association and heard their grievances.  He was felicitated with a shawl and a bouquet.
Report and photo by Neelakantan S.