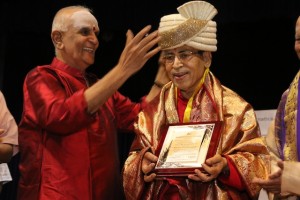 It was special and emotional evening for Carnatic music vidwan, Chiravina Narasimhan. At the Bharatiya Vidya Bhavan, at the top of the annual Pallavi Darbar music fest, this well known guru was crowned ' Pallavi Chakravarthy' – ponnadai, citation, medal and even a Mysore cap – by another great artiste, mridangam vidwan Umayalpuram Sivaraman.
The community and artistes recognized the long career of music education that Narasimhan is known for. His sishyas include sons Ravi Kiran and Shashi Kiran, daughter Kiranavalli Vidyasankar and sister's son, Ganesh besides many others who have made a mark all over.
The pallavi music fest runs till July 3, at the Bhavans till July 1, and then at Arkay Centre.
Curated by Carnatica and Sri Parthasarathy Swami Sabha,
Refer Daily Events link on www.mylaporetimes.com