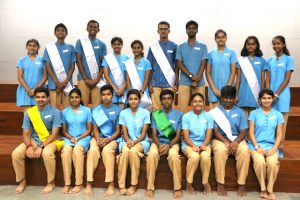 Less than a week after the election rendezvous, it was time to celebrate the student leaders at Chettinad Hari Shree Vidyalayam in R A Puram
The investiture ceremony held on the 4th of July, on the campus, was a time to reminisce the year that went by and set the ground for the incoming batch of office bearers.
The event was presided over by Deputy Commandant. Devendra Kumar as the chief guest. The school principal- Dr.Swaminathan Krishnan, management representative Trayee Sinha and primary head Bhvana Kannan were among other dignitaries present.
The erstwhile Head Boy, Shriraam V, and Head Girl, Rakshitha Arun, recounted their experience in office in the year that went by.
The incoming team was given their badges by the chief guest.
The students team consists of Head Boy, Head Girl, Cultural Secretary, Press Coordinator, with an assistant position for each post.
The sports committee consists of two sports captains, team captains and assistants for the 4 Houses -Aakash, Agni, Prithvi, Vayu, each of which represents an element of nature.
Head Boy Arunachalam S. V. and his team took a pledge on the occasion.