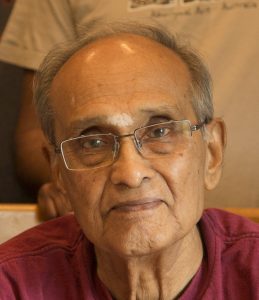 T. K. Swaminathan,82, and a resident of  Sixth Main Road  R. A. Puram for the past 20 years passed away on July 27 at his daughter's residence in Fremont, U.S.A.
A mechanical engineer by profession who graduated from Annamalai University, he started his career with  T. V. S. Motors in Madurai and served in T. V. S. Lucas and other organisations in Chennai before he moved to Adnoc Ltd. in Abudhabi.
Returning to Chennai in mid-nineties he devoted his time to Carnatic music, astrology and various religious activities. He has compiled a list of Carnatic music songs with the names of ragas and composers, this compilation was published.
He is survived by wife Rajalakshmi and daughters Vasanthi and Vanitha.
His family resides at  9 (new) old no 5, Sixth Main Road,R. A. Puram. Email swaminathantk@gmail.com
Peter Antony Guruswamy passed away on July 17. Funeral service was held at St. Lazarus Church, R. A. Puram. Contact his family at 9840611234, 9500147050.
N. V. Saraswathi, aged 87, passed away on July 29. She was the wife of Late R. K. Swami.
Her grandson, Kishore, writes a few lines about her.
N. V. Saraswathi was a self dependent woman who practiced what she preached. A woman of few words, she was adept in gardening and cooking. She lived a simple life with great devotion to her late husband, children and grand children.
Contact her family at 24935416, 24951515.