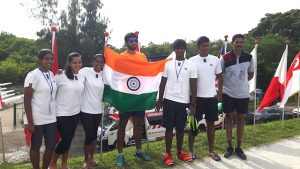 A small contingent from the Madras Boat Club, R. A. Puram coached by Abraham Kandathil and James Joseph, participated in the 2016 Asia Rowing Cup II, organized by the Asian Rowing Federation from July 28 to 31 in Singapore.
The local hosts were the Singapore Rowing Association whose facilities were used for this championship.
The Asian Rowing Federation holds Asian Rowing Senior & Junior Championships, Asian Rowing Cup I & II, Asian Rowing Indoor Championships and rowing events of Asian Games & Asian Para-Games.
Madras Boat Club team results
Results for Asia Rowing Cup II Regatta- Open Category, Schools & Masters Event
Open Category event
Sidharth Sunil – Sixth place in A Final 2000m Single Scull (M1X)
Under 19 Category
Saketh Reddy and Philip J Joseph – Gold in A final Double Scull
Saket Reddy – Fifth place in A Final Single Scull
Priyanka Babu Venkatesh – First place in B Final Single Scull
Ananya Thomas and Anushka Dhanda – Third place in B Final Double Scull
Masters Category ( Age 35 and above)
Aparna Chandrashekaran – First place in 2000m Mixed Eights (8+) as part of International Crew
Ranking
Open Category event
Sidharth Sunil – overall ranking – 6th place out of a total of 9 entries
Under 19 Category
Saketh Reddy and Philip J Joseph – overall ranking – 1st place out of a total of 16 entries
Saket Reddy – overall ranking – 5th place out of a total of 18 entries
Priyanka Babu Venkatesh – overall ranking – 7th place out of a total of 23 entries
Ananya Thomas and Anushka Dhanda – overall ranking – 9th place out of a total of 22 entries
Masters Category ( Age 35 and above)
Aparna Chandrashekaran – overall ranking – 1st place out of a total of 4 entries.
– Reported by Krishna Mohan