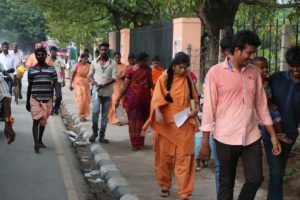 The roads from Mylapore leading to Besant Nagar clogged up as people headed on foot and by private vehicles to the Annai Vailankanni Church for the flag hoisting service and the start of the annual feast at this shrine.
Pilgrims from all parts of the city undertake a walk to this shrine on the opening day of the fest and post-noon,  and so the pavements of Luz, Alwarpet, San Thome and R A Puram, were packed with these pilgrims.
Post 5 p.m. traffic on these roads clogged up and motorists were trapped in traffic jams. The jams got severe as office-goers headed home after work.
Post 7 p.m., as pilgrims headed home after the church service, the traffic jams continued in many parts south of the Mylapore neighbourhood.