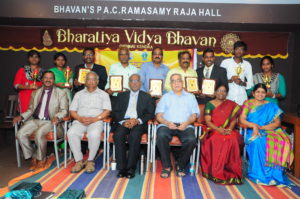 The 6th Ariviyal Kalanjiyam awards were conferred on five scientists at an event held on Sep 11 at Bharatiya Vidya Bhavan, Mylapore. The event was jointly organised by the Ariviyal Poonga Science Journal, Mylai Thiruvalluvar Tamizh Sangam, Tamilnadu Science and Technology Centre and Bharatiya Vidya Bhavan, Mylapore. A. K. Rajan, former judge, High Court, was the chief guest.
The guest of honour, Dr.S.Siva Subramanian, former vice-chancellor, Bharathiyar University, Coimbatore, appreciated the works of the awardees.
Mrs. N. Poonguzhali, chief general manager, Tamil Nadu Telecom Circle, BSNL, Chennai distributed the Ariviyal Kalanjiyam prizes to the winners of the inter-collegiate science communication review competitions and delivered the special address.