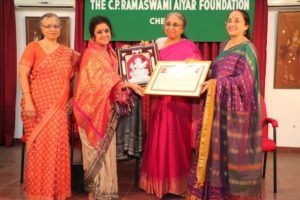 Dancer-guru Chitra Visweswaran was decorated with the Saraswathi Award by the C P Ramaswami Aiyar Foundation at an event held at the Foundation's Alwarpet campus on Friday morning.
Given annually to a person who has contributed to the cultural world, the event is held at the top of the Navaratri season.
Former judge of the Madras High Court, Prabha Sridevan presented the award to Chitra who is just back from a long performance tour of the USA.
The Foundation's president Dr Nanditha Krishna was present.
Shobana Swaminathan later presented a veena concert. Dr Sumathi Krishnan curates this event every year,