Dressed in colourful costumes, the toddlers (LKG and U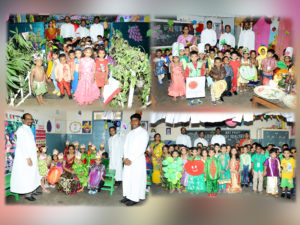 KG)  of Montfort Academy Matriculation School, San Thome had a fun time at the 'Fruit Day' celebrations held at the school campus on Oct 21.  The children were educated about the importance of fruits in their diet. They also sang songs and bought fruits at the small stall set up there. 
The chief guest was Rev. Bro. Arul Rajendran, the vice principal of San Thome School, San Thome.  Rev. Bro. Arockia Sahaya Raj and Rev. Bro. Savari, the principal and vice principal of the host school were attendees at the event.