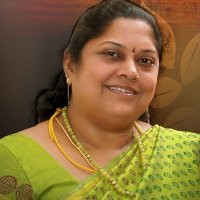 Nov 1 was a special day. It was the 50th birthday of our guru Dr. Sudha Raja. When she was away at London for coaching the choir group for the Milap festival, her students, aged 6 – 60 years, got together and planned a surprise for her.
With the help of Sudha's mother Lakshmi and V.R. Raja, her husband, they gathered her life history with photos/videos/audios and tailored it with a power point presentation about her (from her childhood days till the present). Additional special effects were added by imbibing lines from the songs taught by her.
When the D'day came, Dr.Sudha Raja who was unaware of these developments, was brought to Bharatiya Vidya Bhavan, Mylapore where director K. N. Ramaswamy unfolded the surprise. The whole of  the second floor hall was darkened and when she entered, about 150 students cheered and sang 'Happy birthday' for her.
Sudha Raja, surprised and emotional, then sat down to watch a presentation of her life by Indra Ramanathan and Mala Venkatakrishnan. The event ended with a cake cutting ceremony.
Reported by S. Shanti