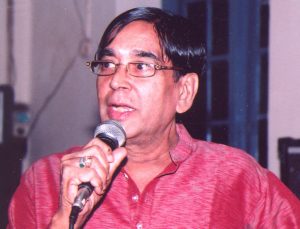 K. Balasubramaniam, Founder and Convenor of Balaganamrutham Trust,  passed away on Dec 17.
K. Balasubramaniam was the son of N.V. Kumaraswamy Iyer and Kundalambal, from the North Arcot District. H
Being the oldest son in a family of eight, he took on the responsibility to support his family and take care of his siblings from an early age of 16. After completing his higher secondary education, it became his responsibility to work his way up towards earning a Masters' Degree in Economics. After successfully getting his siblings settled down in life, he tied the knot to Dhanalakshmi, sister of Mridangam Vidwan T. A. S Mani of Bangalore, at the age of 39.
He was always passionate about becoming a musician but did not get the opportunity during his childhood years to hone his skills and make this dream a reality. He started learning Carnatic Music at the age of 45 from Srivanchiyam Mani Iyer, and then later from Swamimalai Janakiraman and was performing with them during concerts. In the early 90's, he started learning Tevaramas and Tirupugazh from Swami Dandapani and became an All India Radio B Grade Artist for Devotional Music.
With the able support of his wife, who was his pillar of support, he started Balaganamrutham Trust in the year 1994 with the sole objective of spotting, nurturing and encouraging young talents in the field of Carnatic Music. Balganamrutham started off as a small organisation devoted mainly towards conducting monthly chamber concerts but later on, Balaganamrutham was featured during the months of September/October initially known as Monsoon Music Marvel and later during the months of July /August as Mid –Season Music Marvel for the past 22 years. Balasubramaniam always used to say that his dream to promote Carnatic Music was made possible only because of the immense support and encouragement from sponsors, rasikas and last but not least from many upcoming and senior vidwans.
Balasubramaniam not only propagated music by way of organising concerts, but also felt the importance of educating rasikas by creating three issues of Raga Identification Guide to assist in identifying ragas during concerts as a ready reckoner.
As a father, Balasubramaniam has inculcated in his daughters Deepa and Divya, who are also Carnatic musicians, the importance of perseverance, hard work and integrity in achieving greater heights in life.
On the Career front, Balasubramaniam worked for Philips India Private Ltd. for 30 long years in several divisions and retired as a Customer Relations Senior Manager for the entire southern regions of India.
Tribute written by his daughters Divya and Deepa. Contact them through their website at www.deepadivyasisters.org.