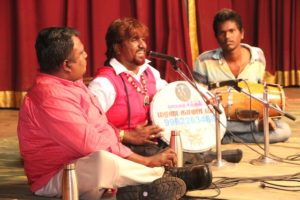 This is was a unique move; use what is traditionally a sabha space for other forms of the performing art. And the Raga Sudha hall on Luz Avenue, alongside the Nageswara Rao Park, now shorn of most of its trees and bushes played hot.
The annual Urur Olcott Kuppam Vizha which hosts recitals on Besant Nagar's sands where this kuppam is located moved some opt its events for this festival to Mylapore. Its promoters, T M Krishna, vocalist and Ramon Magsaysay Awradee and journalist and activist Nityanand Jayaram curate this festival.
At Raga Sudha hall which is a destination for Carnatic music rasikas, the weekend saw a gaana recital nu Marana Gaana Viji ( seen in this photo) and silambam demos, a concert by a transgender group of singers and a parai-attam finale that was rousing in its music and energy – so different from the string of Carnatic music concerts that dominate this space year round.
The Vizha succeeded in encouraging a sabha to provide its space and draw a decent audience to the weekend shows but the Carnatic music rasikas were few in number at the performances.
More recitals/ shows are on, of the Kuppam Vizha are scheduled. Here is the FB page link – https://www.facebook.com/700902283357977/photos/a.921324457982424.1073741829.700902283357977/1209741965807337/?type=3&theater