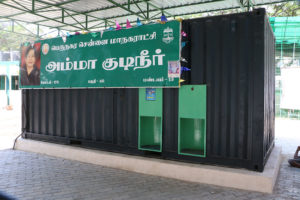 Amma Drinking water scheme (Amma Kudineer Thittam), a scheme to disperse drinking water set up by Chennai Corporation, was launched last year by the late chief minister J. Jayalalithaa.
Water, supplied by Metro Water is purified and dispersed through reverse osmosis purifiers to economically weaker sections. Each family is eligible to fill upto 20 litres per day. In our neighbourhood, one such unit is located near the Chennai Corporation Park at Kamarajar Salai, R. A. Puram.
Each plant will have the capacity to treat 2000 litres per hour. Smart cards will be given to families to facilitate
water distribution.