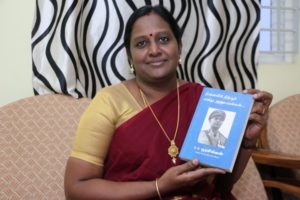 C. V. Narasimhan was the first director of CBI, Chairman of P. S. Charities and President of Vivekananda Educational Society. He jotted his life in a book 'Random Recollections'. Now, this book has been translated into Thamizh by Dr. R. Kala and is titled 'Ninaivil nirkum enadu Anubavangal'.
Kala is a teacher of English for senior students at P. S. Higher Secondary School, and is passionate about Thamizh too. 
She says, "Narasimhan was my mentor. He personally motivated me and encouraged me to pursue my doctorate in value education." His book inspired her too and hopes the translation will spread Narasimhan's thoughts.
The book also outlines  ideas for reforms in the police system and outlines ideas for young police officers.
Kala, is a resident of Mandaveli Street. Both the books have been published by KLM Printers, 52 Mandaveli Lane, Mylapore. Ph: 9840214407. Both are priced at Rs. 180.