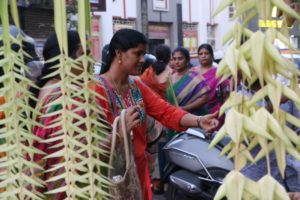 On the eve of Tamil New Year and Vishu, the markets are abuzz with vendors selling their wares. At South Mada Street, Mylapore the entire street is packed with hawkers selling flowers, fruits, mango leaves, jackfruits, neem flowers, plantain leaves and thoranams.
Several shops have cropped up in all corners of the street and shoppers are everywhere, moving from one shop to another, bargaining with each vendor and trying to get the best deals on their purchases.
Though it was crowded, K. Viswanathan, a shopper said he really enjoyed shopping. "The prices seem
a little steep. But with not too many festivals coming up in the near future, I understand that this is the best time for the vendors to make a good sale".
Thoranams are priced at Rs. 20 for four pieces, the bigger ones are priced at Rs. 60 for 4 pieces, whole jackfruit pieces are being sold at Rs. 160 per kilo, diced and cut jackfruit pieces are being sold for Rs. 200 per kilo. The yellow flowers used for vishu are being sold at Rs. 50 a bunch and mango leaves are being sold at Rs. 20 a bunch.