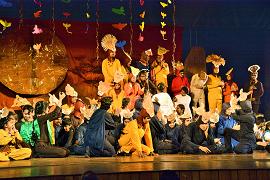 V-Excel Educational Trust, a special school located at Thiruvengadam Street, R. A. Puram, held its annual day on Sunday, April 9 this year.
More than a 100 students and staff from Kaleidoscope Learning Centre – the special school, the vocational training unit and the youth empowerment services of V-Excel participated in this event.
The theme chosen was the famous musical "The Lion King", and this ambitious project started rolling with a home grown script, choreography, direction, narration, complete with costumes, sets and props right after Pongal this year.
It took a little more than two months of daily practice to get the special children ready. The performances were well appreciated by the crowd which had a good mix of parents, relatives and friends, staff and outsiders.