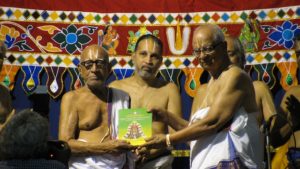 A book release function took place at Sri Vedantha Desikar Temple, Mylapore on Monday evening (May 1), the occasion of the 1000th birthday of saint-philosopher Ramanujar.
Three books, which included 'Sri Ramanuja Divyanagan' and 'Ramanuja Nutranthathi Matrum Pillaiyanthathi' were released by senior advocate and former Solicitor General of India, K. Parasaran  and received by Maha Shrinivasa Achari, both aged 90 and patrons of the temple.
A talk on the themes discussed by the books was given by Dr. K. Dayanidhi, HoD at the Dept. of Vaishanavism at Madras University.
By K. Shree Varshini / Journalism Trainee