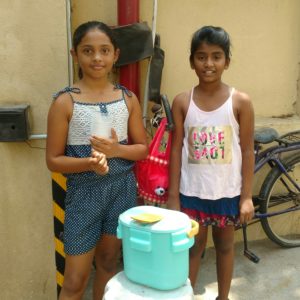 Nakshathra and Vanya are residents of Raheja Towers in MRC Nagar. This week, they are running a lemonade stand to learn the value of money.
'It was their idea. The children gave us a list of items they need, drew up an estimate of costs involved and did the pricing themselves. We, the mothers, helped them to make the lemonade', says Vanya's mom Gayatri.
They placed their 'stall' which consisted of a small stool with a cooler of lemonade on it, near one of the gates to their property. As people walked to or from their cars, the girls called out to them offering a cold drink on a hot day.
'We also have some chocolates, priced at 2 for Re. 1', say the girls. 'Don't worry if you don't have the change; we do', they add.
They are going to do this for a few more days. 'The first day, they may have more buyers, since people don't want to say 'no' to little kids. But after that, their sales may go down. They need to go through the process', says Gayatri.
They hope to make a profit, but they are OK with a loss too. 'We just want to know how hard it is to make money', they say.