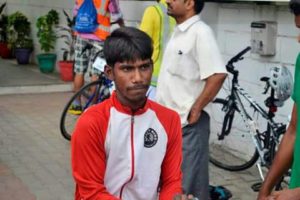 Srinivasan Ezhumalai and Vasanth Manivannan, the Mylapore duo from Mylai Midhivandu Kuzhu – a cycling group started by Mylaporeans Dinesh Prabhu and D. Sekhar about 2 years ago, recently became the first Indians to complete the BRM1000 race on a single speed fixed gear bicycle.
Brevets De Randonneur Mondiaux (BRMs) are rides of fixed distances that are to be completed within specified time limits, having successfully passed through pre-determined time controls.
The race that the duo participated in was a 1009 km event (from Velachery to Vijayawada and back) called Road Beasts. The race, organised by Madras Randonneurs, was to be completed in 75 hours.
Srinivasan, a daily wage worker who runs a mobile vulcanizing shop in Mylapore, and Vasanth, a computer analyst at a private firm, completed the race with one hour to spare.