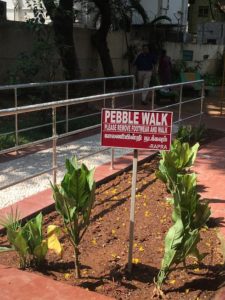 The members of R. A. Puram Residents Association (RAPRA), in collaboration with Greater Chennai Corporation, recently laid a pebble pathway at the Chennai Corporation park at 7th Main Road, R. A. Puram.
The facility was inaugurated on May 22.  A small group of residents and local Corporation officials attended the event.
At the inauguration, the health benefits one gains from using the pebble walk were explained by Dr. Thrivikraman, an acupressure specialist.
Corporation officials said they plan to plant more flowering plants and install exercise equipment at the park shortly.
For details contact the joint secretary of RAPRA V. Sreenivasan at 9841047626.