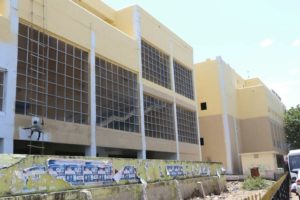 The MRTS railway station in Mandaveli is getting a makeover and work is on at a good pace to make this station look smarter.
Currently, workers are white-washing the exteriors of the station located alongside Sringeri Mutt Road in Mandaveli. A simple lawn is being laid alongside the wall and this will give a 'green' look to this side of the station.  Protective metal fences have been erected along the lawn area to prevent vandalism.
In the past, brick -breaking workers who run small businesses in this area used all the public space around the station campus to stock bricks and break and store them.
The station is not particularly a busy one save for the surge in commuter traffic at peak hours. The not-so great transport connectivity does not encourage people to use the rail services at this point.
A few autos stand by in the portico. There is a need for better campus lighting here; a few criminal cases have taken place in the vicinity in the past.
Southern Railway may want to invite artists to brighten the walls of the station. One such effort undertaken by PaintBox whose members painted the public wall opposite the station was vandalized by political parties which ran their slogans on the creative works of art.