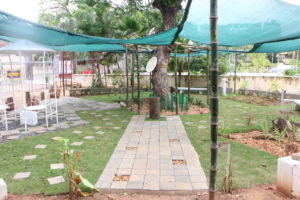 Recently, a bunch of students set up a model garden at CSI School for the Deaf located on San Thome High Road. It was a joint effort by students of Architecture at Sathyabama College and the students at the CSI School.
"It is an endeavor to introduce a new skill to our students. Our kids don't go to parks, so we thought of introducing a park to them", says the principal of the school, W. James Albert.
The garden project has been a great success. "Our children enjoy taking care of the plants. We grow vegetables like ladies fingers, brinjal and chillies. The children water the plants and maintain this garden. This is also a kind of training,"he adds.