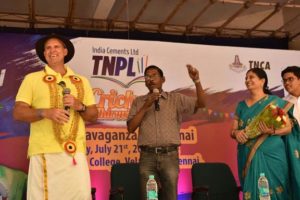 On July 21, Australian cricketer Matthew Hayden paid a visit to Vidya Mandir to interact with the students and to promote the upcoming Tamil Nadu Premier League (TNPL).
The students and teachers learnt a lot about persistence and hard work from Hayden's anecdotes. They were also pleasantly surprised to learn about his love for Indian food and cinema.
Laxman Sivaramakrishnan, an alumni and a sportsperson was also a part of the programme. After the interactive session, both the guests met with the cricket team of the school and gave them tips on honing their cricketing skills.
Hayden had also batted a couple of balls, a sight which the students usually get to see only from the stands of a stadium or their televisions. Both the guests also planted a sapling in the campus bringing an end to a memorable day.
Reported by Aditya Naik, School pupil leader, Vidya Mandir