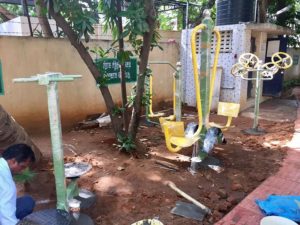 In response to the residents' demand for an outdoor gym, the members of R. A. Puram Residents' Association (RAPRA) have fitted four fitness equipment at the Corporation Park at 7th Main Road, R. A. Puram. It was inaugurated on Aug 14 by Sunderajan, corporation area engineer, division 123.
Dr. R. Chandrasekaran, president, RAPRA says, "Four pits were dug on Aug 13, for a warm up machine, an air walker, a leg press and a hip twister. The equipment was installed, after which concrete was poured. It will take a few days for the concrete to set properly and so the equipment can be used from tomorrow (Aug 17)".
The AE has assured us that the area will be filled with sand before the end of the month, adds Chandrasekaran.