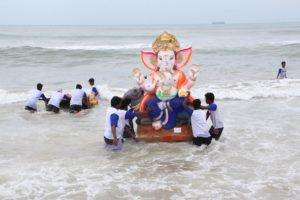 San Thome High Road got extra busy on Sunday afternoon. The first round of immersion of images of Sri Vinayaka was underway and groups who came in a procession carrying the images, large and medium made it to the seashore of Pattinappakkam to immerse the images in the sea.
Police lined up the road and at the shore where standard arrangement been made tonsure there was order and untoward incidents discouraged here.
Traffic on this busy road crawled later in the day as procession became intense.
Immersion will also be held this weekend.