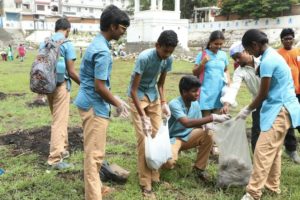 A large group of volunteers which included school students descended on the Chitrakulam, the temple tank managed by Sri Adi Kesava Perumal temple, Mylapore in order to clean it up.
They spent about an hour from 8 a.,m onwards clearing the bed of the dry tank of debris, plastics, vegetable waste and wild vegetation.
This civic campaign will be carried out on Sunday, 8 a.m. onwards.
The temple trustees have said that once the tank is cleaned they will tap the bore wells sunk here to pump up water to fill a small portion of the tank.
Water experts though say that using bore wells to raise water here is not the right thing to do now; the groundwater level will fall and this will affect residents of this area.