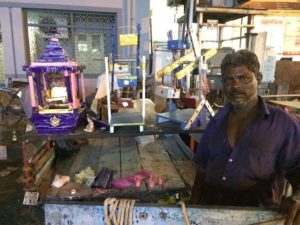 The mada streets of Mylapore are home to a few families. Their dwellings stand out after the shops shut down.
One such family works and lives at the junction of East Mada Street and Pitchu Pillai Street. Karunanidhi ( everybody who knows him calls him Karuna) ferries goods on his tri-cycle, to earn his bread. He also designs green thoranams when he gets orders from local people.
Karuna is also a skilled craftsman, self-taught. He makes miniature models of temple chariots, ratnams and puja stands – out of waste wood and color paper. And sells them. They aren't top-cless; just simple ones.
This week, he had displayed three models on his tricycle. "People who like my work buy these," he says.
Pinned to a tree here, is a little memorial he has created for his brother – the man died of alcoholism.
Karuna is a well-wisher of the annual Mylapore Festival – ready to do odd-jobs at short notice.