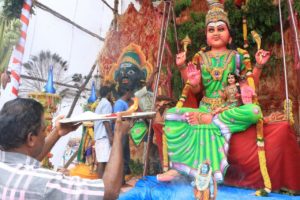 A larger-than-life idol of Amman has been setup on St. Mary's Road, near the Mandaveli MRTS station. This is in celebration of a function at Sri Kanniyamman Temple located nearby.
There are multiple images set up on the stage, but the huge Mariamman in the center is eye-catching.
The swing on which the idol is placed oscillates gently and the eyes of the idol keep blinking and this has drawn a large number of spectators.
People stopped by to spend a few minutes just taking in the spectacle, clicking pictures or praying fervently. 'We brought in special craftsmen from Pondicherry to set this up', says a temple trustee.