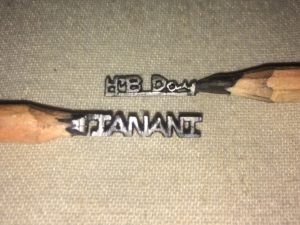 P. Rajkumar (Raj), is an alumnus of MCTM Chidambaram Chettiar Matriculation Higher Secondary School, Alwarpet. He is a student of Architecture. Raj has a unique talent. He is adept at making sculptures from pencil leads.
'In my first year at college, we used different type pencils to draw. Once during a free period, I tried carving an image on chalk piece, I enjoyed it. Then friends had a game of making impressions on erasers and I liked making those too. This lead to a desire for exploring this further and decided to do something using pencil leads', he recalls.
Raj started by using a safety pin to carve images on the leads. 'My first one was an image of a heart', he says. Thrilled with the outcome, Raj started getting more serious about the art. 'I looked up ideas on the internet and made more images. To encourage me, my friends gifted me a detaining cutter – this would made accurate carving possible', he says.
Raj usually uses 8B pencil leads, which are bigger than the regular ones, but can use other leads too. 'I make different sized images based on the size of the leads', he says.
The smaller leads are used to carve letters of the alphabet or numbers while the bigger ones are used to make elaborate images. 'I present my works as gifts to my friends. I can engrave special messages on them. I even presented some to my teachers recently', he adds.
Raj does customized orders. Contact him at 9677115246.