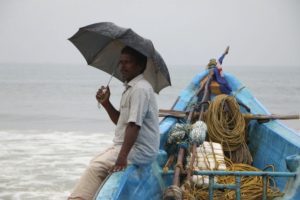 If there is one spot in the city where you can enjoy the cool climate of the season near the lap of the sea, it is by the shore of the Marina beach. Better still, around the fishing boats parked closer to the shoreline.
On Friday morning, even as a light rain fell in the San Thome area, and we drove down the Marina Loop Road, where fisherwomen continued selling fish on the roadside, we spotted a few people in the sand, enjoying the weather and the roar of the waves of the sea.
Though the Loop Road has been extensively redesigned and relaid, from the Light House end to the Foreshore Estate end, attention has not been paid to clearing the sand side of debris, waste and plastic – partly dumped by local residents and partly left over by the civic works.
Also, for a long time residents of the area west of San Thome High Road have been asking Chennai Corporation to redesign the beach zone at the Foreshore Estate end so that seniors can sit on permanently-insatlled benches while kids can play around a simple stage and the lighting is strong and well-spread.
Currently, fish hawkers have set up street stalls even at this junction and often private buses treat this place as a parking space.