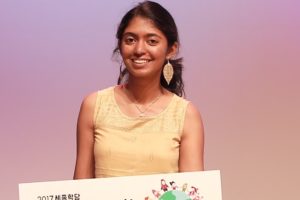 In the annual elocution competition conducted by InKo Centre, in association with King Sejong Institute Foundation and SangMyung University, Sadhana, a student of the King Sejong Institute at InKo Centre, got the third place.
Sadhana won the first place in the preliminaries conducted at Chennai. This enabled her to take part in the Excellent Learners Cultural Exchange Program offered by King Sejong Speech Competition, Korea.
105 participants were evaluated and 25 went on to the second round, out of which 12 moved on to the finals which were held in Seoul.
Sadhana was awarded a fully-funded scholarship for a three-month study program at Daegu University, sponsored by Kookmin Card. The programme, which was held over a period of 8 days included several activities ranging from Taekwondo to ceramic painting. The participants were also taken to tourist attractions and historical places in Seoul. Contact InKo Centre at 24361224.