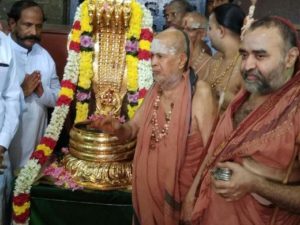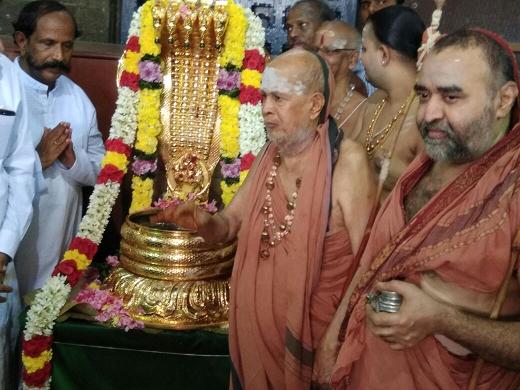 More than 1000 devotees gathered at Sri Kapali Temple, Mylapore on Thursday, Dec 7 morning, to catch a glimpse of the gold nagabharanam adorned by the main deity Sri Kapaleeswarar.
The special invitees at this event were the gurus of Kanchi Kamakoti Peetam Sri Jayendra Saraswathi Swamigal and Sri Vijayendra Saraswathi Swamigal. The event was attended by several dignataries including Mylapore MLA R. Nataraj.
Funds for the nagabharanam were donated by the thakkar of the temple Vijayakumar Reddy and his wife Preetha Reddy. The nagabharanam has been made by the jeweller Vummidi Bangaru Srihari Sons with 7.5 kgs of gold at a cost of Rs. 2.75 crores.