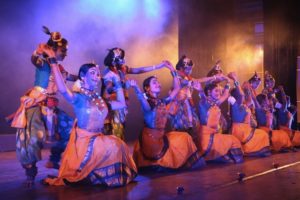 Rasikas keen to get as much as they can of the early part of the December Season festival of music and dance in the city have been checking into Narada Gana Sabha's auditorium in Alwarpet where the festival hosted by Kartik Fine Arts is underway.
The fest, inaugurated on December 1 by former West Bengal governor Gopalkrishna Gandhi hosts music and dance concerts at this venue till mid December and then hoats the concerts at Bharatiya Vidya Bhavan, Mylapore.
Vocalist S Mahathi and dancer Bhavya Balasubramaniam were decorated with titles at the fest's opening evening.
Dance guru Sheela Unnikrishnan presented her recent production Sri Krishna Vaibhavam, featuring over 40 young dancers on Saturday evening to a sizable audience.