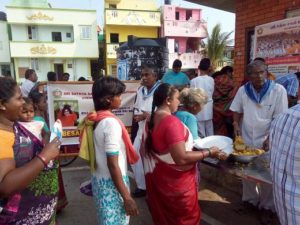 The 92nd birthday celebration of Sri Sathya Sai Baba lasted for a week, from Nov 16-23, at Sundaram Temple at R. A. Puram.
On Sunday, Nov 19, the Bal Vikas children led a rally through the streets of R. A. Puram. They carried placards with the teachings of Sai Baba. Later in the evening, more than 500 people participated in the rathothsavam procession.
Veda chanting, poojas and bhajans were also held during this period. More than 100 people received a donation of clothes and food was distributed to over 2500 people.