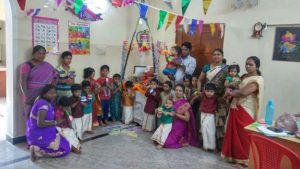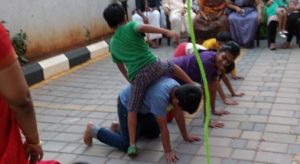 The local markets have been abuzz with activity since Thursday of this week.
Vendors have set up shops in every nook and corner at the markets at South Mada Street, Mylapore and Mandaveli. From sugarcane and mango leaves to turmeric and pongal pots, the markets have become a one-shop stop for all pongal necessities.
At several communities, the celebration started early. At Loving Arms Daycare Centre at R. A. Puram, on Friday, Jan 12, morning, the children played traditional games like pallankuzhi (picture on the left). Later, a pongal pot was kept and sweet pongal was distributed to all the students.
More than 25 residents gathered at Luz Amor Apartments, Luz for their community's pongal celebration held on Saturday evening. The children tried their hand at uriyadi and pot painting and also took part in games like paccha kudirai.