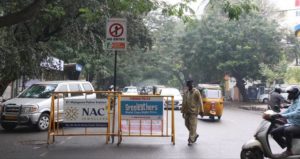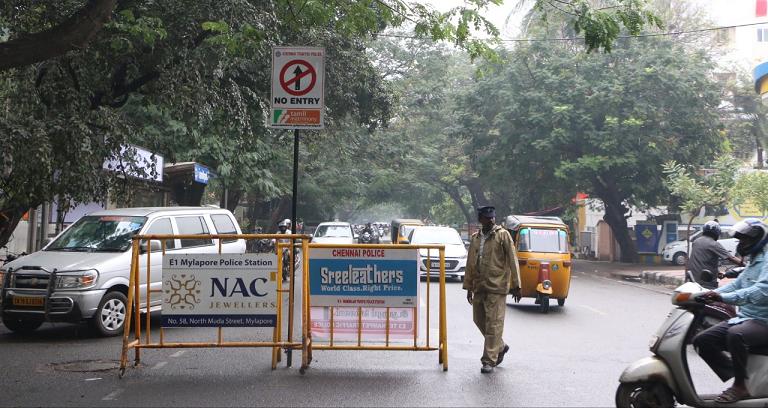 Chennai City Traffic Police have made some changes in traffic regulations in the area off Crowne Plaza Hotel and St. Mary's Road. These came into effect on Sunday.
Policemen posted at key points, barricades and traffic signage have been employed to guide motorists.
The entire stretch from 2nd Main Road, R. A. Puram to Chamiers Road will now be one-way. Barricades were recently put up outside Hotel Raintree on St. Mary's Road to divert vehicles.
According to Jayakaran. J, assistant commissioner of traffic, Mylapore, "Vehicles coming in from T. T. K. Road, Alwarpet and going to Adyar or Kotturpuram will have to take a left at St. Mary's Road and right towards Prithvi Avenue and then take a right at 2nd Main Road, R. A. Puram to reach Chamiers Road and then proceed towards Adyar, Nandanam and Kotturpuram"
"Vehicles from 2nd Main Road, R. A. Puram have to take the left into Chamiers Road to reach T. T. K. Road. Those who want to go to Greenways Road from T. T. K. Road have to take St. Mary's Road, Prithvi Avenue and 2nd Main Road, R. A. Puram and then proceed to Pasumpon Muthuramalinga Thevar Road. All residents from Boat Club Road have to take a left at Chamiers Road: they cannot take the right turn there", he adds.
Obviously, this idea is rolled out to decongest traffic pile-up at Crowne Plaza – Boat Club Road junction. As always, such changes are temporary and will be studied to decide if they must be continued, changed or discontinued.
However, the changes are impacting other areas. Long lines of cars and bikes pour into C. P. Ramaswamy Road near the Billroth Hospital end and affect traffic flow on that main road. Motorists are also noticing crowding near flyovers in the area.
(( )) VOICE YOUR OPINION on this civic issue. Mail to – mytimesedit@gmail.com